News
Lynette Nelson, LPN- 2022 SDAHO Healthcare Hero of the Year
Posted 1/31/23 (Tue)
In 2022, nominations were submitted to the South Dakota Association of Healthcare Organizations (SDAHO) from across the state for the Healthcare Hero of the Year award and one Healthcare Hero stood out above all the rest. That individual, Lynette Nelson, LPN, at MRH&C was recognized as the SDAHO Healthcare Hero of the year at their 96th annual convention this last year. Last week, over 60 staff, retired staff, family members and community members gathered in the education conference room of MRH to celebrate Lynette's Healthcare Hero award once again.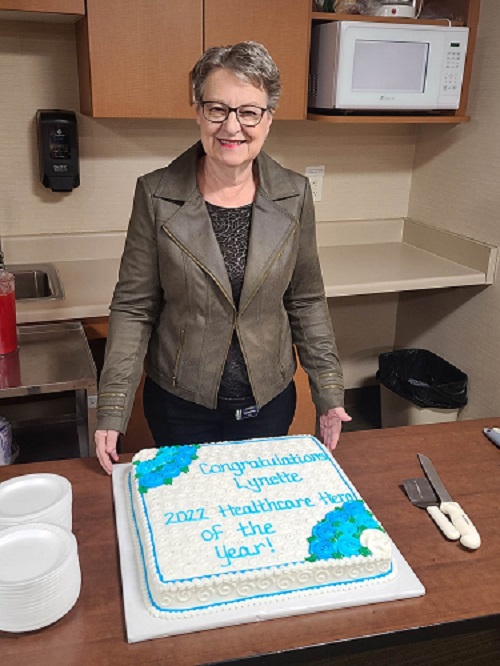 Lynette thanked everyone for coming and shared stories of her first experiences with healthcare that swayed her decision to go into nursing. "When I was 10 years old, I was a patient here at MRH for a burst appendix. A blizzard hit the area and my parents were snowed in in Java and couldn't make it to see me while I was recovering." Lynette shared. She remembered with fondness her nurses' aides, Auxiliary snack bar ladies and other staff who treated her with extra care. "Dr. Linde would buy treats for me and the staff from the snack bar. I later received a scholarship to attend nursing school, and do you know where those funds came from? Treats sold at the snack bar. Do you know how many caramel rolls they had to sell to send me through school?!"
She humbly shared that while she's honored to receive the Healthcare Hero award, she couldn't do it alone. "I couldn't receive this award alone, it takes a team to make a Healthcare Hero." Lynette shared with the group. She went on to share another story of a staff member she worked with her first few years at MRH who left an indelible mark on her patient care. "I would go into patient rooms, and they would ask if Eileen was working that day. And, after several requests, I decided to investigate why patients kept requesting Eileen Ford, a housekeeper at the time. So, I waited until she went into a patient's room and I observed her. Eileen would come into the room and start cleaning, and as she was cleaning, she would chat with the patient. Her conversations seemed natural and made the patient feel more like a close friend or family member she was coming to visit than a patient. She helped them feel at ease and I realized just how important every member of the staff was to patient care." Lynette shared. "To this day, I remember Eileen and her influence on how I should treat my patients."
Lynette was nominated for the award by John Ayoub, CEO of MRH&C, who was present at the ceremony to share his nomination letter. "Over the years, Lynette has role modeled the behaviors we want to see from all employees, regardless of their formal title or organizational duties." John shared. "She is a recognized leader, not because of the title she carries on her name badge, but because of the effort and enthusiasm she brings to the hospital day-in and day-out. Her motor is legendary, and her batteries never seem to run down. She has a kind word and a warm smile for all she meets. She is well respected not only for what she does, but for who she is. We are honored to work on the same team with Lynette and are proud to nominate her for this distinguished service award; she truly is our Healthcare Hero!"
Lynette is not the first staff member at MRH&C to receive the SDAHO Healthcare Hero of the Year award. In fact, she is the second in a row after June Volk, RN received the award in 2021. We are honored to have such high caliber staff working here at MRH&C. It says a lot about our organization when, of all the individuals nominated across the state of South Dakota, it was ours to be chosen for this award two years in a row. We are grateful that they received this well-deserved award and honored to have them on our team!